Singa Hills is a freehold residential new launch project at District 14 Singapore proudly brought to you by TeamBuild Land Pte Ltd, the developer behind the recent new launch like Suites @ Newton and Spazio @ Kovan. This project is situated at 33 Jalan Singa, the former site of Singa Court through the collective sales process, and is within walking distance to the future Downtown Line Kaki Bukit MRT Station that will be due in 2017.
Singa Hills comprises of 58 luxurious exclusive units ranging from 1-bedroom, 2-bedroom, 3-bedroom and 3-bedroom Penthouse on 2 blocks of 5-storey residential units with swimming pool and other communal facilities with a total of 61 surface car park lots.
Inspiring touches show everywhere
More than just a residences, Singa Hills is a showpiece developed in order to become a present-day architectural legacy. Streamlined steel and aluminium edging happens to be established to contrast with warm timber-like surfaces to compose a modernist geometric work of art.
Spaces takes on new meaning, and living reaches the epitome of elegance contained in this boutique development that encourages admiration from every direction. The crisp, clean contours and stylish facade talks of the contemporary European styling and elevates it to a work of art.
Graceful living is right here to Stay
Envision the difference, when your times become filled with instances of quiet joy and soothing pleasure. The good thing about the architecture conspires utilizing the gentle allure of surrounding nature to color an image of perfect living.
Whatever you desire in one place
There's never ever a more pleasant surprise, than when every thing your heart desires appears to lie just round the corner. Home is in which you can literally get it all from handy public transport, to expansive nature parks, major sports facilities while the exciting East Coast recreational belt.
A collection of established schools and tertiary institutions like Moha Modi School and Temasek Polytechnic are located within close vicinity, and major malls like Bedok Mall and 112 Katong and town centers are only minutes' drive out. Everybody in the household will have great reason to love their new home at Singa Hills.
Leisurely living only a heartbeat away
Calling Singa Hills home, is choosing for a lifestyle where you have most of the time and space to savour life's lots of pleasures. Get a cool dip, have a splashing good time, or heat up the action with a fiery celebration – the satisfaction is perhaps all yours.
Masterful architecture is flaunted across every square foot. From the cavernous entrance lobby that warmly welcomes you home, to the own roomy unit, and directly to the very top where exciting amenities await, this genuinely is living processed and redefined.
Crowning Singa Hills is a rooftop lap pool, designed to produce a definite architectural statement by straddling the hinders. Completing the ensemble are a barbecue function and pit pavilions for get-together with a great view, while an exercise place and children's playground in the first flooring give yet even more options.
Your own space to live your own way
Functional and efficient space preparing turns every unit into a personal sanctuary for which you can savour the skill of fine living precisely while you fancy. The sliding privacy screen, for instance, can be employed to ward off the outside world or opened up to seamlessly merge the living room and balcony spaces.
The optimization of space is evident just about everywhere, such like in the compact cooking area which is separated by a clear tempered glass wall. This extends the aesthetic space into the dining space and beyond to give a cosy and comfortable cooking experience.
Cautious thought goes into every detail, as present in the designer fittings and elegant cabinetry present in every restroom. The bedroom, with its queen-sized bed, optimum north-south orientation and full height windows provides yet more proof that this is a home built for living at its most processed.
Own your perfect home at Singa Hills, rethinking space, refining living.
---
Project Info
Singa Hills Project Information
Project Name
Singa Hills
Developer
ECCO Development Pte Ltd (ROC: 200500250H)
District
14
Tenure
Freehold (Estate In Fee Simple)
Address
33 Jalan Singa Singapore 418109
Description
Proposed Residential Apartment Comprising 2 Blocks of 5-Storey Residential units with Swimming Pool, Ancillary Facilities (Total 58 Units) and carpark at 1st level on LOT 03021K MK 23 at Jalan Singa
Site Area
Approx. 2,918.50 sqm / 31,414.5 sqft
Plot Ratio
1.4
Total No. of Units
58 units
Unit Mix
1-bedroom: 463 sq ft
2-bedroom: 657 - 667 sq ft
3-bedroom: 775 - 829 sq ft
3-bedroom Penthouse: 1163 sq ft
Feature & Facilities
Lap Pool
Jacuzzi
Al Fresco Dining Pavilions
Outdoor Fitness Area
Children's Play Area
Pedestrian Card Access and vehicular remote access
Audio/Video Intercom system
Estimated Maintenance Fee
$45 per Share value
Car Park Lots
61 Surface Car Park lots on 1st storey consisting of 2 handicap lots and 1 visitor lot.
1 car park lot per residential unit.
Expected TOP Date
31-Dec-18
Expected Legal Completion
31-Dec-21
Architects
LAUD Architects Pte Ltd
C & S Engineer
BK Consulting Engineers Pte Ltd
M & E Engineer
ELEAD Associates Pte Ltd
Developer's Lawyer
Rajah & Tann LLP
Why Buy?
Unique Selling Points of Singa Hills
Design Concept

A boutique development ensconced in a peaceful private residential neighborhood, the approach along Jalan Singa reveals a development with clean traces and contemporary facade that exudes the feeling of contemporary European structure that distinguishes itself from the neighborhood
The stylish mixture of sleek and cool steel edging and aluminum screens, contrasted with the warmth of timber-like areas expressed in a geometric modernist form is attractive to a discerning and advanced customers
The development is crowned by the rooftop lap pool, spanning over the blocks, making exciting and distinctive architectural statement
The generously sized, vivid and effectively ventilated entrance lobby at the very first storey exudes elegance and warmth, welcoming the residents and leading them in their units

Sophisticated Living amidst a multitude of Facilities

Freehold Status, lasting generation
Sophisticated 5-storey apartment development arranged in a North-South orientation on an elevated site
Provision of 61 car park lots (inclusive of 2 handicap and 1 visitor lots)
Rooftop landscape deck featuring lush planting with panoramic views of the surroundings. Immerse in the 25m Lap Pool spanning across the 2 blocks, soak and indulge in the Jacuzzi, or unwind with friends and family at the Al-Fresco Dining Pavilions.

Easily Accessible to Amenities

Near Singapore Post Centre and Geylang Serai Malay Village
Near Bedok Reservoir Market and Food Centre
Located near schools such as Telok Kurau Primary School (0.5km), Bedok North Secondary School, Manjusri Secondary School, East Coast Primary School and NPS International School Singapore

Experience of Convenience

Located near Kembangan and Eunos MRT Station
Within minutes' drive to Central Business District (CBD) & Marina Bay Sands and Integrated Resort. Well connected to major expressway (PIE)

Unit Features (2nd to 5th Storey)

Each one of the house units provides efficient internal configurations having useful templates with no household shelters.
Meticulous attention to finishes and detail for elegant and timeless interior environment
Balcony spaces equipped with movable sliding privacy screens that seamlessly extends the living room space
Compact and functional cooking area spaces incorporating a clear tempered glass wall to increase the artistic space into the dining room and beyond
Well-appointed bathrooms with designer fittings and stylish cabinetry works

Loft Units with PES – 1st Storey

High ceiling height (3.8m) for 1st Storey Apartment units with PES (2 units) offers opportunities for loft design

Penthouse – 5th Storey

Duplex 3 bedroom penthouse units with double volume living room
Penthouse units are characterized by spacious room layouts
Unit Type
Singa Hills Unit Type
Type
UNIT TYPE
UNIT AREA (SQM)
UNIT AREA (SQFT)
NO. OF UNITS
Share Value
Est Maintanance fee per mth
($45 per Share value)
A1
1-bedroom
43
463
4
5
$225
A2
1-bedroom
43
463
4
5
$225
B1-A/ B1-B/ B1-C
2-bedroom
61
657
8
6
$270
B2-A/ B2-B/ B3-A/ B3-B
2-bedroom
62
667
12
6
$270
B4
2-bedroom
62
667
4
6
$270
C1-A/ C1-B
3-bedroom
81
872
8
6
$270
C2
3-bedroom
72
775
4
6
$270
C3-PES
(Loft unit)
3-bedroom + PES
75
807
1
6
$270
C3
3-bedroom
75
807
4
6
$270
C4-PES
(Loft unit)
3-bedroom + PES
77
829
1
6
$270
C4
3-bedroom
77
829
4
6
$270
PH1/ PH2
3-bedroom
108
1163
4
6
$270
Site Plan
Singa Hills Site Plan
Floor Plan
Singa Hills Floor Plan
1 Bedroom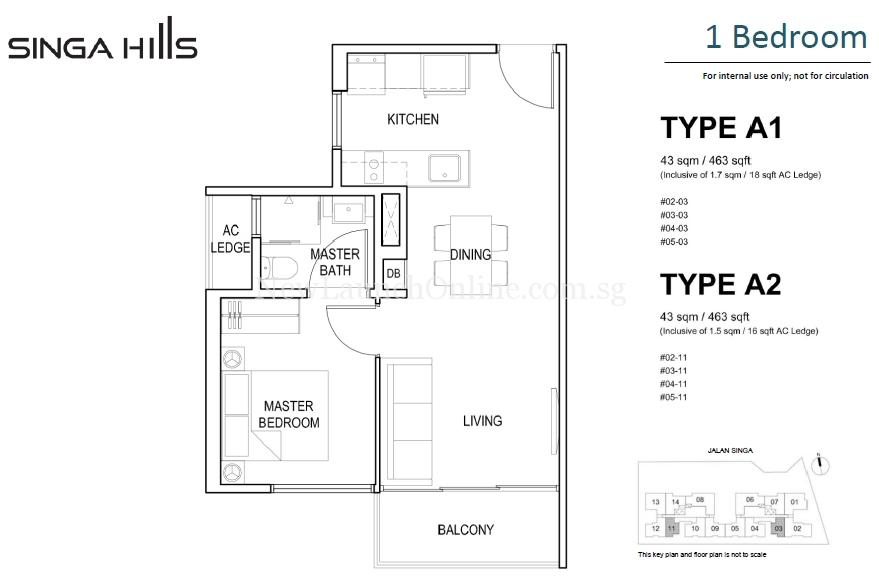 2 Bedroom
3 Bedroom
Penthouse
Location
Singa Hills Location Map
Amenities
Amenities
| Category | Amenities within 2 km | Distance |
| --- | --- | --- |
| Train (MRT/LRT) | Kaki Bukit MRT Downtown Line Due 2017 | 0.64 km |
| | Ubi MRT Downtown Line Due 2017 | 0.76 km |
| | Kembangan (EW6) | 1.14 km |
| | Bedok North MRT Downtown Line Due 2017 | 1.25 km |
| | Eunos (EW7) | 1.30 km |
| Bus Stop | Opp Blk 646 (Bus: 8, 21, 22, 60, 65, 66, 506, CT18, NR7) | 0.21 km |
| | Blk 121 (Bus: CT18, NR7, 506, 8, 21, 22, 60, 65, 66) | 0.22 km |
| | Blk 646 (Bus: CT18, 2N, NR7, 8, 21, 22, 60, 65, 66, 506) | 0.24 km |
| | Blk 122 (Bus: 8, 21, 22, 60, 65, 66, CT18, 2N, NR7, 506) | 0.25 km |
| Primary Schools & Other Institutions | Telok Kurau Primary School | 0.35 km |
| | Bedok North Secondary School | 0.51 km |
| | Maha Bodhi School | 0.78 km |
| | Eunos Primary School | 0.78 km |
| | Manjusri Secondary School | 0.83 km |
| | East Coast Primary School | 1.30 km |
| | Ping Yi Secondary School | 1.43 km |
| | Bedok West Primary School | 1.45 km |
| | Damai Primary School | 1.55 km |
| | Bedok Town Secondary School | 1.56 km |
| | St. Stephen's School | 1.61 km |
| Groceries & Supermarkets | Giant (Kampong Ubi) | 0.71 km |
| | NTUC Fairprice (Lengkong Tiga) | 0.78 km |
| | Giant (Bedok Reservoir) | 0.80 km |
| | NTUC Fairprice (Eunos Crescent) | 1.13 km |
| | NTUC Fairprice (Bedok Reservoir Road) | 1.70 km |
| | NTUC Fairprice (Chai Chee Ave) | 1.86 km |
| | Sheng Siong Hypermarket (Bedok Reservoir) | 1.91 km |
| | Sheng Siong Hypermarket (Bedok North) | 1.93 km |
| | NTUC Fairprice (Joo Chiat Complex) | 1.93 km |
| | NTUC Fairprice (Singapore Post Centre) | 1.93 km |
Gallery
Gallery
Developer
TeamBuild Land
TeamBuild Land is an established lifestyle property developer and clinched the prestigious Singapore Enterprise 50 awards consecutively in 2012 and 2013.
Founded in Singapore on 8th August 2008, we have successfully launched and completed 20 projects to date under our property division. Our portfolio includes a wide range of developments ranging from landed to non-landed projects including EcoVille, The Amarelle, Suites @ Newton and Spazio @ Kovan.
TeamBuild aims to be your developer of choice, trusted for our foresight, and sought after for our reputation in our delivery. Being able to spot opportunities is an important aspect of growth. We encourage our people to have a positive mindset, and cultivate their eyes for embracing opportunities.
---
To find out the distance or time taken to travel from Singa Hills to another location or vice-versa, click on either "Directions to" or "Directions from" and enter the address, name or postal code. You may choose from 4 different mode of the transportation provided – By Car, Public Transit, Walking or Bicycling, and select the most ideal route suggested by Google map. To restart the whole process, click on "Reset Map". You may also explore the surrounding of Singa Hills through the interactive "Google Street View" by dragging the "Human" icon to any of the highlighted road.
---

Interested to own a dream home in Singa Hills?
Simply fill up the registration form below or dial +65 6100 1811 and one of our professional Salesperson will get in touch with you the soonest.
---