Royal Wharf Phase 2 on Sales Now!
New Waterfront Homes in London's Newest Docklands Neighbourhood

With future Crossrail line, Royal Wharf is set to become one of the most connected areas in London


Call/SMS/Whatsapp Royal Wharf London Sales Gallery Hotline at +65 9742 8935 for VVIP discount!
About Royal Wharf London
Royal Wharf London is a mega township development extending to circa 37 acres (15 ha) of land with extensive River Thames frontage located in London's Royal Docks. With approximately 500m of direct south facing river frontage, Royal Wharf London offers high-quality waterside living with beautiful panoramic views.
The development will consist of 3,385 homes in total, a beautiful riverside walkway, retail streets, connecting parks and squares, apartment buildings with views of the River Thames, a new school, shops, offices and riverside restaurants, catering for a population that is estimated to reach 10,000 upon completion.
Royal Wharf London comprises of town houses, 2, 3 & 4 bed duplexes, 1, 2, 3 & 4 bed apartments and suites. Drawing on the Georgian heritage of London's great squares and neighbourhoods, and the benefits of riverside living, its layout and design will maximise views over the cluster of town squares, Canary Wharf, the O2 Arena, and the Thames Barrier.
Unique London Lifestyle
This "21st-century urban village" is based on ancient design principles, with a high street, a school, parks, squares and riverside restaurants. It is within walking distance to Docklands Light Railway station and will also by served by Crossrail, due to be operating from 2018.
The scheme was on the drawing board long before the 2008 credit crunch, which dashed the hopes of developer Ballymore. But with the collaboration with Oxley International Holdings Ltd, a Singapore reputable developer, this development has finally made the east London vision a reality.
The first phase of 811 homes will be ready in 2016 and eventually more than 20,000 people will live and work at Royal Wharf London when the project is completed. Hence it makes complete sense to invest during the early phase to ride on the huge upside potential. Definitely one of the high rental yield overseas project in UK, London Zone 3.
Classic London Make New
The masterplan and structural planning of Royal Wharf London is inspired by the fantastic great estates of London, most broadly produced in Georgian and Victorian times. Almost half the space in this township will be open space, this is the point which characterize as much by its scene as by its structures.
The feeling of space here where the Thames extends to nearly a mile wide and the expansive broad flat land that is known for the docks opens up great expenses of sky like no place else in the city.
London's historically most desirable areas, from stately Kensington to villagesque Marylebone, have an energy that attracts people from miles around. Royal Wharf London arrives as their newest successor, an incredible place to live and a charming place to visit.
Entering the township from the local DLR station at Pontoon Dock, you will immediately arrive at sovereign place, the local market square, a bustling piazza replete with retail and restaurants.
10 Reasons Why You Should Buy Royal Wharf London
2 Top Reputable International Developers Mainboard-listed Oxley from Singapore with market capitalisation of about S$2bn and No. 2 UK developer Ballymore with 15 years of experience building quality homes
Integrated mixed development with all amenities you need including gym, concierge, school, parks, supermarket, shops, offices, riverside restaurants, cafes, medical and many more
Onsite integrated swimming pool and clubhouse, free for resident – rare among London homes
River Thames riverside living and panoramic views
Supported by the Mayor of London
Strategic location at the centre of the World-Class International Business District – minutes away from ABP, University of East London, Silvertown Quays, ExCel London (biggest Exhibition & Convention Centre in London; past events: G20 London Submit, Miss World 2014, and many more), O2 Arena (past events: concerts of Katy Perry, ColdPlay, Tailor Swift, etc), Greenwich Peninsula, Canary Wharf financial centre, London City Airport (a major London airport with flights to New York, Paris, Milan and many more)
Upcoming Crossrail right across main entrance – mega new "MRT/MTR" system to be completed in 2018 (Royal Wharf will also be completed in 2018), improving the transport time between West London, Central London & East London. Only 3mins to Canary Wharf, 7 mins to Liverpool Street (GIC Singapore's investment in Broadgate office building) and less than 10 mins to Bond Street.
Low cash outlay and deferred payment
Highly affordable & high rental yield overseas property from only £3xxK (approx S$6xxK or HK$ 4m) with 5% rental yield, compared to Singapore property (min. S$800K for 99-yr leasehold with 2.8% rental yield), Hong Kong property (min. HK$ 8m with 2.8% rental yield) and Central London property (min £1.5m with 2% rental yield)
Enjoy best price with our exclusive early-bird discount – register as our VVIP customer now!
Price & PSF
Price starting from £792psf only
1 Bedroom From £37x,000
1 + Study From £46x,000
2 Bedroom From £49x,000
2 Bedroom Duplex From £64x,000
3 Bedroom From £62x,000
3 Bedroom Duplex From £71x,000
4 Bedroom From £73x,000
4 Bedroom Duplex From £75x,000
Townhouse From £1,1xx,000
Royal Wharf Phase 2 Unit Mix
Fill up the Form to Enjoy VVIP Discount
Project Information
| | |
| --- | --- |
| Type | Integrated Mixed development with Studio, 1BR, 2BR, 3BR, Townhouses |
| Total | 3,385 homes launched in phases |
| Site area | Approx. 40 Acres or 16 Hectares or 1.7 Million square feet (spanning across 2 DLR stations) |
| Tenure | 999 years |
| Population | To cater for 10,000 residents |
| Demand | Over 50,000 employees working in the vicinity |
| Underground | Excellent transport links into central London via the Docklands Light Railway (DLR) connecting to the Tube, upcoming Crossrail (opening 2018) |
| Airport | Only 1 stop from London City Airport with flights to European cities and New York |
| Phase 1 completion:Phase 2 completion | Estimated Summer 2016 (Jun-Aug)Estimated Summer 2017 |
| Ferry | To London Bridge/Tower Bridge, London Eye etc from the proposed new pier |
| What's Big | New Asia Business Port opening in 2017 transforming the Royal Docks into London's next International Business District & creating 20,000 new jobs |
| Warranty | 10 years build warranty by UK National House Building Council (NHBC) |
Amenities
Thames Barrier Park – Award Winning Park
Lyle Park – Historical Park
Docklands sailing and water sport centre
O2 Stadium: One of largest concert arena in Europe, it also features music club, cinema, exhibition space, piazzas, bars, and restaurants
Eat, Shop, Relax, Play and Live – ALL in 1 PLACE
University of East London: the top six modern universities for research in the country with total more than 19,000 students from 120 countries
Excel London: Exhibitions and international convention centre hosting world event such as Miss World 2014, 2012 Summer Olympics, G-20 London summit in 2009 and many more which generate over £1.6 billion in economic benefit
Travel the river in style with Thames Clipper riverboat services
Site Plan
Floor Plan
Location Map
Royal Wharf London is one of the best connected places in London with world class transport links from Pontoon Dock on the DLR and Canning Town on the Jubilee Line, the West End in 20 minutes, Canary Wharf in five minutes and London City Airport in two minutes. Once completed in 2018, a new Crossrail station at Custom House will mean that residents can reach Heathrow Airport in just 41 minutes and the West End in 15 minutes. In addition, the Emirates Air Line, London's only cross-river cable car, is within walking distance.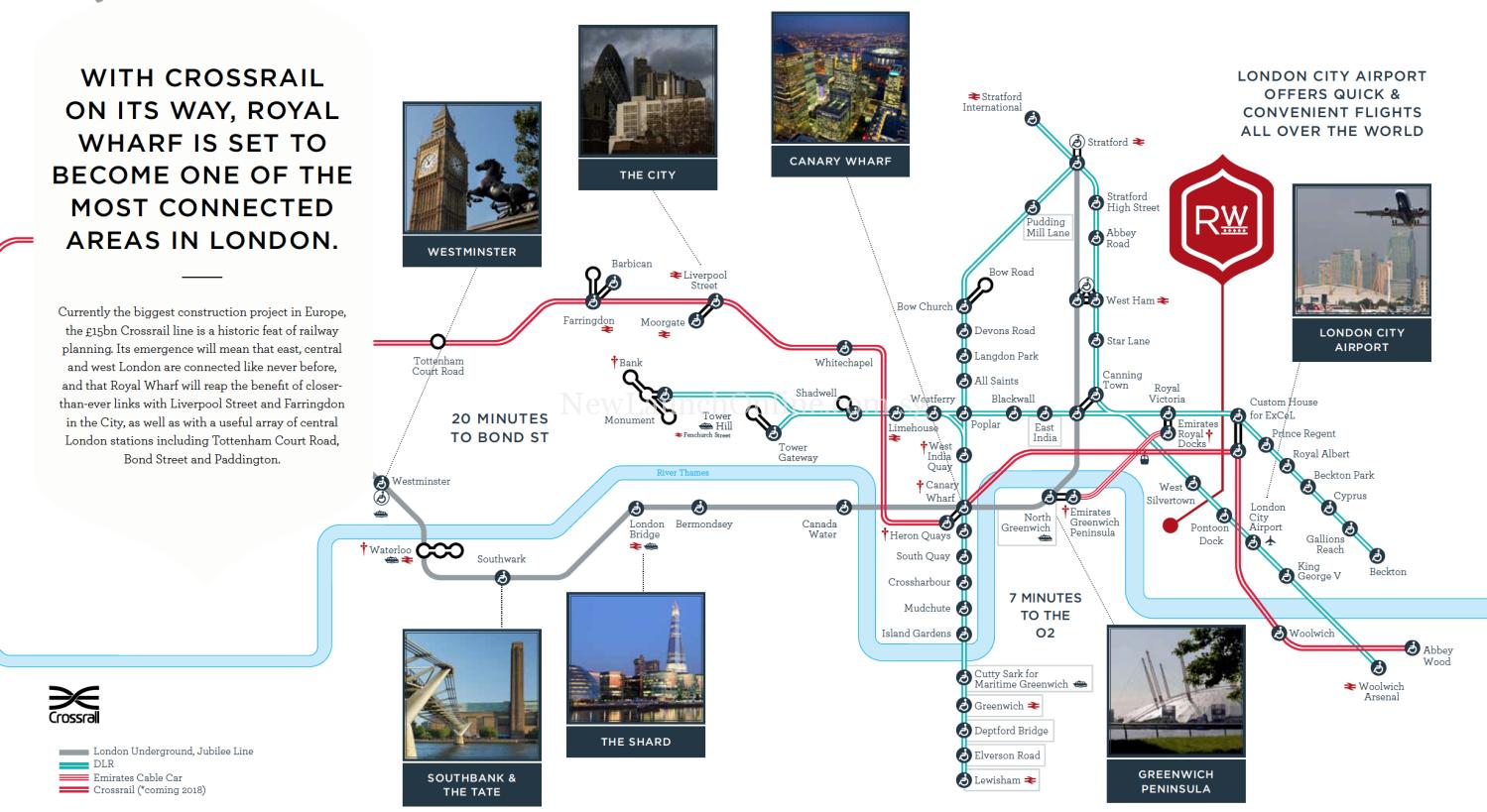 Developer – Oxley & Ballymore
About Developers
The regeneration of Royal Wharf is by two unfathomably experienced pioneers in the worldwide real estate market. Oxley International and Ballymore offer a guarantee to quality, a skill for effective advancement and an enthusiasm for projects that show genuine aspiration.
Oxley is a lifestyle property developer specialising in the development of quality residential, commercial, and industrial projects at competitive prices. Headquartered in Singapore, Oxley's developments cater to the growing needs of discerning home buyers who value quality living and finer lifestyle as well as small and medium enterprise owners looking to purchase their own premises.
Ballymore group is an international property investment and development company focused on large scale award winning developments across Europe. Ballymore's developments have distinguished it as a leader in urban regeneration with an eye for design and innovation with areas of business encompassing land and planning, architecture, design, sales, marketing and estate management.
Fill up the Form to Enjoy VVIP Discount
Are you convinced now to own a dream investment in Royal Wharf London?
Simply fill up the registration form or dial/SMS/Whatsapp 
+65 8535 1313

 and one of our professional Salesperson will get in touch with you the soonest.