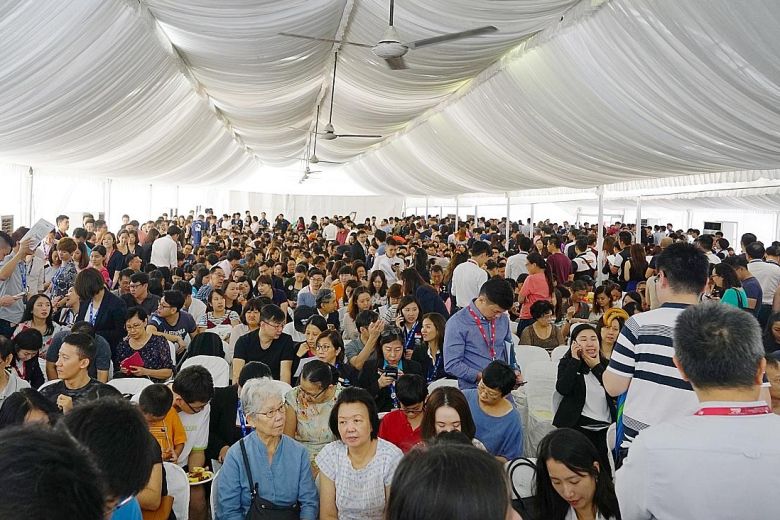 Photo Credits: Straits Times/SRX
By 2pm yesterday, buyers snapped up 300 of the 480 units released at JadeScape on its launch weekend, its developer Qingjian Realty said.
The buyers secured their units at an average transacted price of $1,700 per sq ft, similar to the recent launch Park Colonial, with interest balanced across all unit types. Priority had been given to those ex-owners of Shunfu Ville at 9am, followed by Developer's VVIP. Public balloting commenced at 11am sharp.
Home buyer Ling Mee Har, 43, was one of the first to secure a unit. "I was attracted to the convenience of JadeScape – with its central location, connectivity and the amenities within and outside of the development," said the two-bedroom unit buyer.
Mr Alan Cheong, senior director of research and consultancy at Savills Singapore, said that "demand will be healthy when there is a strong product offering, an easily accessible location using either public or private transport modes. There has also been a dearth of large projects sold in the vicinity for the past few years".
"This strong first weekend showing should translate to a steady rate of weekly sales for the months ahead."
JadeScape, the former Shunfu Ville near Marymount MRT station, is offering smart home technology for residents while also adopting a smart estate management system. It comprises about 1,200 units.
This coming Saturday, all eyes will be on 2 new launch projects, Mayfair Gardens at Upper Bukit Timah Road and The Jovell, which is situated along Flora Drive. Both projects will be conducting their balloting preview sales.
Within District 20 itself, there will be an upcoming boutique new launch called Lattice One, which is developed by Tee Land.
Jadescape showflat is open from 10am to 7pm daily.
Credits: Article extracted from Straits Times